About Us
Since 1992 Hernandez & Company has specialized in providing national and international corporate, tax and advisory services to multinational firms and international investors.
We are committed to provide superior personal attention and take pride in giving you the assurance that the personal assistance you receive comes from years of advanced training, technical expertise and financial acumen. By delivering high-quality professional services on a timely basis, we have built a solid reputation as a trusted advisor in the field of international taxation and corporate tax services for small and midsize companies.
Our multilingual professionals fluent in English, Spanish, Portuguese and Chinese, have broad experience in helping  local and international corporations manage their accounting and tax burdens as well as complying with today's complex reporting requirements. It takes thorough planning on a global scale and having the most effective overall tax structure in place to address specific issues and long-term business goals. At Hernandez & Company, you will have extensive national and international affiliate resources that will assist in these matters.
At Hernandez & Company, we strongly believe in the value of relationships. We view every client relationship like a partnership, and truly believe that our success is a direct result of your success.
Vision & Mission
VISION
Our vision is to become our clients' most Trusted Advisors.
MISSION
Our mission is to create value for our clients, our people and the firm by providing international professional services.
We will accomplish this by building a company that will stand the test of time and by creating a culture of pride, passion and commitment that will enable us to continue to attract and retain the best and brightest professionals. We pledge to become our clients' most trusted advisors.
COMMITMENT
We are committed to providing our clients with the assurance that the personal assistance they receive comes from years of advanced training, technical expertise and financial acumen. Our constant investment of time and resources in professional continuing education, state-of-the-art technology and extensive business relationships is indicative of our commitment to excellence and competence.
Core Values
Our core values are the key principles that make up the identity and culture of Hernandez & Company. These values enable us to retain our unique character and value as we embrace the changing dynamics of our global economy. We strongly believe that by working in harmony with our core values, our vision will become a reality.
Local Resources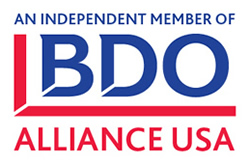 At Hernandez & Company, we believe in creating a positive client experience that can fully address all your tax and accounting needs. For this reason and to provide you the best possible solution, we joined the BDO Alliance USA, a nationwide association of independently owned local and regional accounting, consulting and services firms with similar client service goals.
By supplementing our existing services, the BDO Alliance USA brings us the necessary tools to better serve our clients with greater flexibility, efficiency and cost-effectiveness, and allows us to expand our capabilities in such specialty areas as assurance, mergers and acquisitions, corporate finance, litigation, restructuring, valuation and other services offered by BDO and its members.
As member of the Alliance, our employees have access to the same training and back office support as BDO employees, providing us with the opportunities to market and enhance our firm's technical knowledge.
As an independent member firm, the BDO Alliance USA allows us to:
Enhance our client services and broaden our capabilities overall
Expand our domestic and international coverage
Gain greater technical knowledge in specialty areas
Utilize professionals with experience in a wide range of industries
Access the most up-to-date technical information
Participate in the latest training programs
Utilize state-of-the-art, customized computer systems
Provide our clients with key business contacts throughout the U.S.
International Resources
At Hernandez & Company we are committed to help our clients get access to global resources wherever they need them. With this philosophy in mind, we became members of BLITA International, an international association of independent tax advisory firms specialized in all areas of taxation, accounting, and business consultancy services.
Membership in BLITA International is by invitation only and therefore, only those firms and advisors that have the best professionals and high prestige in their home country are selected. The association's hand-picked qualified members have the knowledge and expertise of big firms, combined with the personalized services and cost-effectiveness that only independent local firms can provide.
As an independent firm associated with BLITA International, Hernandez & Company can connect you with highly knowledgeable and dedicated tax professionals around the world, so you can benefit from:
Local experts with an international reach
Dedicated staff specialized in your industry
A wealth of expertise in tax and business development matters
The same quality level, professionalism and personalized services across international borders
An international network of professional service firms ready to help you wherever you want to go